Study Abroad Programs
An unforgettable study abroad experience in Wittenberg – the place where Martin Luther lived and worked.
Since 1502, Luther's town Wittenberg has been a place of teaching and learning. Today, a number of international universities and colleges come here each year for study programs tailored specifically to their needs and requirements.
A study abroad program that fits your specific needs – sounds great?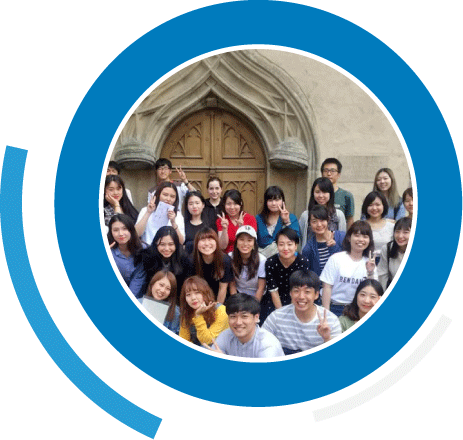 For more than 25 years, the IDSK has been organizing individual study abroad programs for international universities and colleges.
Our partners in the U.S., Japan, and China send student groups, accompanied by 1-2 professors, to Wittenberg to learn about various topics in this area.
Potential course topics include:
German cultural studies
German history
History of medicine
Comparison of educational systems
Comparison of social control
Sustainability
Europe and the European Union
Beyond that, nearly any field of study and concentration is offered. It is our goal to utilize the knowledge and potential available in this area while helping international visitors discover both the rich history and future of Central Germany.
To complement your lessons, we plan visits to well-known companies, start-ups, and institutions, invite experts to present on the topic, and bring in our lecturers for additional seminars.
Together, let's create a program that will inspire your students, enhance your curriculum, and fit your budget.
2 to 15 weeks
Seminars, workshops, talks with local and regional experts related to your course topics
German classes and cultural studies for any level
Time for your own classes and seminars
Open to all fields of study
Field trips and activities
Field trips (one day or several days) within Germany to sights relevant to your course topics
Field trips to important cultural sights
Guided tours and visits with cultural and culinary highlights
Great variety of free time activities
Intercultural support
Support from our team (IDSK)
Transfer from an airport in Germany
Single or double rooms with host families
Including breakfast and dinner, lunch packs during field trips
Single or double rooms in a new and modern student dorm, with or without meals
Good-bye party
Study abroad: Plan your own program!
Would you like to leave the classroom and take your students out into the world? We have the best conditions for your academic program in Luther's town, Wittenberg.
Studying abroad at IDSK in Wittenberg means:
Diving into a new culture and language.
Growing in intercultural competence.
Learning to leave your comfort zone.
Traveling Europe during the weekends.
Professors planning study abroad programs for their students + International Offices of universities and colleges looking for language and cultural studies programs.
Classes are 45-minute-classes.
Varies, depending on duration, content, and number of participants. 
Please take into consideration that planning your own study abroad program and getting it started at your institution may take several months and up to a year.